Founder of March Audio
Staff member
Part 1 - Overview
Hi
Im going to put this post in "Technical" as it fundamentally will cover the technical competence of online reviewers.
Its been an interesting week. One of the fantastic benefits of the internet is that everyone can express an opinion. Unfortunately this often leads to a situation where people become convinced their opinion is of more worth or validity than anyone elses, regardless of their actual level of expertise in the subject.
The reason I am mentioning this is because we have just had a speaker reviewed by a South Korean reviewer, Nuyes, and he has published totally misleading information. His lack of technical competence has led him to draw erroneous conclusions, perform frankly incompetent tests, and make claims that dont stand up to scrutiny. He has then followed this up with incompetent modifications to the speaker. I feel for the poor owner who has had his speakers damaged.
He owns a Klippel analyser, which is a superb piece of kit for testing speakers, but unfortunately we have a situation where
he
"has all the gear and no idea".
The reviewer discovered a problem with one of the pair of speakers. Hands up, we made a manufacturing error and failed to seal a hole in the speaker binding posts which allowed air to leak from the speaker cabinet. We didnt pick it up on production test as we use very tight fitting banana plugs which sealed the hole. We have subsequently changed the process to stop it happening again.
To be clear the problem this would cause is not something you would hear playing music, but it was picked up by the reviewer as he applied a very high level low frequency sine tone. Something that would never happen in real world use.
We compensated the owner of the speakers for his time to fix the issue himself. It didnt make sense for the speakers to be shipped back here as it was something the owner could easily and quickly remedy.
The owner accepted and was happy with this solution
and meant he wouldnt be without the speakers for several weeks while they were in transit. We screwed up, we owned it, we fixed it, we apologised.
We take quality control very seriously. My background is in aerospace where quality is for obvious reasons, absolutely critical. I carry this background into March Audio.
Now, it turns out the reviewer had dismantled and actually modified one of the speakers. In doing so he created a problem. He screwed up the specific torque settings on the woofer mounting bolts. These have a specific setting and compliant mounts to minimise a driver resonance. He then reported this as a fault with the speaker, which shows up as a small distortion blip at approximately 380Hz.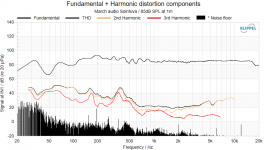 It should be noted that the problem was only apparent on one of the speakers in the pair, the one he had dismantled and modified.
The level of the distortion should be half the level he measured, and indeed was in the speaker he had
not
dismantled and modified.
A recent production test here, the blip is below 0.4%. 14dB lower than Nuyes measurement. 14dB is a massive difference by the way.
Excellent performance: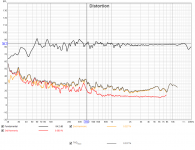 For information the fluctuations in the frequency response are actually caused by it being an indoors measurement, where reflections cause cancellations and additions. The speaker anechoic response is much flatter. Its a measurement artifact.
Nuyes first claimed this distortion blip was due to a fault with one of the speakers passive radiators (wrong).
He then said it was due to the air leak in the binding posts (wrong).
He then claimed it was due to an air leak around the tweeter motor and waveguide joint (wrong).
He then claimed this was due to a lack of fill material (wrong).
A 3rd party from S. Korea reported this information back to me.
The reviewer did not contact me for comment or advice
.
I explained the real reason to the 3rd party; that it was a driver resonance and its vibration coupling into the cabinet due to over-tightened woofer mounting bolts. The information was fed back to the reviewer but he ignored it. In fact he refused to believe it.
I also fed back that he had measured the speaker on the wrong axis.
He measured with the microphone in between the woofer and tweeter, when it should be on the centre line of the tweeter. Again he ignored this and published data with an incorrect frequency response. A dip in the mid range where there is none. A clear case of measurement error.
The reviewer claimed that the driver resonance does not exist and the blip in distortion is due to the air leaks and is fixed by stuffing the speaker tightly full of damping material. This is completely wrong.
The reviewer subsequently posts his erroneous data in Audio Science Review Forum.
Whilst doing so he also cast aspersions on the integrity of another reviewer (the very competent and honourable Erin Hardison)
who had previously reviewed the speakers and found no problems.
Nuyes has also lied and stated in a Korean forum:
"to post this to ASR (Audio Science Review) to allow Alan to have a minimal defense".
Nuyes is aware that I cannot post in ASR to challenge his statements. So I think you can see this was just a contrived and dishonest review / attack.
Last edited: