Founder of March Audio
Staff member
There is a lot of misunderstanding about grounding in audio systems. I thought I would post a bit of info on the subject.
Contrary to popular audiophile belief, ground (as in a connection to the physical earth and mains electrical safety earth) is *
not*
a sink for noise. Noise does not go into it and disappear. A ground connection is not required for any audio or noise reason. If you dont believe that then explain how electronics works quite successfully in portable devices, aircraft or space
The only reason any audio kit has a ground connection is for electrical safety. Even then Class II devices (have a double square symbol on them) have no earth connection because they are double insulated or have at least a 6mm gap between any live component and the chassis. No single electrical failure inside can cause their chassis to become live.
Physical ground is just used as another conductor. At your local mains transformer (or at your fusebox) the neutral conductor is connected to physical earth. This just provides a fault loop to make high currents flow if live connects to ground to blow fuses, or these days to make RCD trips work.
For domestic audio ground connections are actually
*only*
a
potential
source of problems. Unfortunately the ubiquitous RCA interconnect system is fundamentally flawed. You have probably heard of the infamous "ground loop" problem.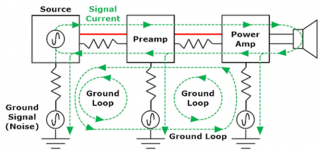 If more than one device is connected to mains ground a loop is formed where currents can flow (see above). With RCA connectors they are often connected to the chassis or ground. This means that this noise current flows in the shield wire between components. Due to the shield having a resistance, that current develops a voltage across the cable . The shield is one of the signal conductors and hence your desired signal gets modulated by this noise current.
So RCA is actually quite a dumb idea from a signal integrity point of view, Its a real shame its the de-facto standard for domestic audio. Even if there is only one mains connection in the system noise currents can still get induced in the shield for various reasons (smps Y capacitors for one) and still cause problems. Also a more modern manifestation of this issue is not just an apparent hum, but "computer" noises derived from computers being connected to DACs.
So this is where we come on to balanced or differential connections. First audiophile myth to bust is that balanced sounds worse because it has more components and is more complex etc. This is simply not true. All things being equal, with good design balanced or single ended does not sound any worse or better than the other. If you do not believe that then consider the fact that
*ALL*
professional applications use balanced equipment, including music recording studios. So all the music you are listening to at home has been in a balanced system from the microphone through to the A to D converter. Also most DAC chips have a balanced output that gets converted to single ended RCA for you to use!
However balanced does have specific advantages with regards to noise.
Balanced has 3 wires, 2 for the signal and one for shield. So unlike RCA, noise currents stay in the shield and do not corrupt the audio signal.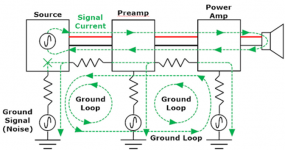 Balanced also has one other advantage, Common Mode Rejection Ratio (CMRR). If we look at a simple balanced input circuit you will see that the Op Amp (the triangle) has 2 inputs, one marked plus and one marked minus. In simple terms the op amp amplifies the
difference in voltage
between these two connections. The plus keeps the signal in the same phase (non-inverting) whilst the the minus inverts the phase.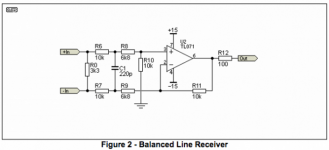 This does an interesting thing, any signal or noise that is present and the same on
both
input wires (Common Mode) gets cancelled out! This is also why balanced cables have the signal wires tightly twisted together, it makes the noise signals as similar as possible on both wires so the amp will more effectively cancel out noise.
So whilst
most
of us,
most
of the time get away without any
overtly
noticeable problems with single ended RCA connections, I guarantee there will be more noise and mains pick up with it compared to balanced. We worry about noise with dacs at ridiculously low numbers and then forget about it all being ruined by the way we connect the components together! So my advice is that if a balanced connection is available, use it .
BTW, balanced inputs are still fully compatible with single ended RCA, you just need a correctly wired XLR to RCA cable and you will still retain most of the benefits of the balanced input. I should also mention that differential based amps with additional RCA connectors on the amp itself are not the correct way to do this as the balanced screen should
only
be terminated at the far RCA end.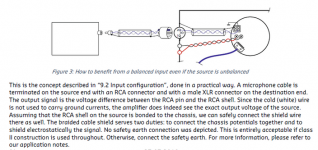 Bruno Putzeys of Hypex and Purifi fame has written an good paper on grounding.
Last edited: